We can guarantee that the animals on our farm have not been fed or administered any antibiotics, growth stimulants, chemicals or animal by-products their entire life. We also use non-GMO corn in our feed.  We have the animals harvested in a humane manner and processed in a sanitary and clean environment. All our processing is done by USDA Inspected and/or State Inspected facilities.
Raising hogs the way we do is more costly and labor intensive. This manner of rearing does not take away from the taste or leanness of our pork, but adds assurance. Like so many people, we're also concerned about the use of antibiotics and their ineffectiveness to fight some illnesses. Though it has not been proven, we feel if we do not use any antibiotics or chemicals in the raising of our animals there will be no chance for you to build up immunity to antibiotic your doctor prescribes to fight off illness. The long term effects of the use of antibiotics and chemicals on those who consume meat that came from animals administered antibiotics and chemicals are still unknown. We feel we should be responsible and do our part in protecting the possibility of any future problems with your health.
With the quality of product combined with the customer satisfaction that they are getting naturally grown pork, we will continue to produce "Madewell" pork well into the future.
Madewell Meats LLC has been providing its customers with top quality ALL NATURAL Pork products since 1997. We strive to meet the needs of the consumer with lean and tender pork. We are also very much concerned with the environment so we grow hogs the natural way. If you have any questions, feel free to call anytime. If you would like to place an order, please contact us at:
Farmers Markets:
Greater Springfield Farmers Market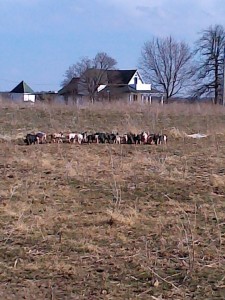 Tuesday, Thursday & Saturday
Webb City Farmers Market
Friday
Family Farm:
Steve Madewell
14835 Lawrence 1170, Aurora, MO 65605
(417) 678-3647
(417) 466-1401 mobile